Encased Coins Dot Info
---
Victory Encased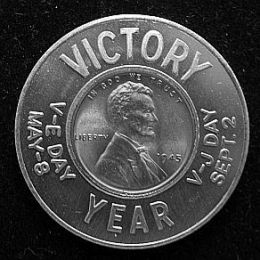 Type One A Obverse on Left - Type Two Obverse on Right Photo by Perdue
Victory Encased Cents
I collect "Victory" encased cents. According to information from the ECI website there are 72 different encased with the Victory obverse. (see images above) I am currently aware of 88 different reverses for the Type 1 Obverse. As of August 18, 2017 I now can count 99 Type 1's and only one Type 2 Obverse is known with the same reverse. This is the most common piece and readily available in new condition with a full red cent in MS condition. Below is a list of the known reverses with location if known. I recently acquired "Waterbury Buckle Co. / Waterbury, Conn. / Since 1853. With this unknown to me piece the total of Type 1's is 99.
Photo by Perdue
Photo by Perdue
The designation of this as the obverse is because this is the obverse of the coin. The Type Two obverse differs from the Type One obverse in that the Type Two has no scrolls and no laurel leaves and says "Year" at the bottom, while the Type One says "World Peace" The only piece with the Type Two Obverse is "There Is No Substitute For Veterinary Service".
In looking at the two designs my opinion is that the Type Two was manufactured by a different company than the Type Ones. At this time there are no other examples know of the Type Two Obverse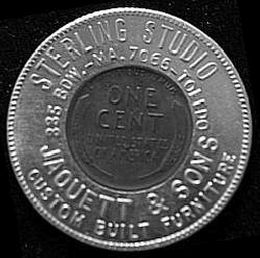 Type One Reverse on Left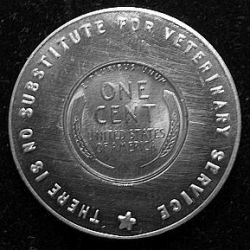 Type Two Reverse - Photo by Perdue
Note the denticles around the rim of the encasement on the obverse and the reverse of the Type One. The Type Two is smooth edged front and back. Further note the fonts used and the way they appear on the piece. The Type Two font is plain and appears flat and not very appealing. The Type One uses a font that pops out at you and the "World Peace" is in italics. All know pieces are 35mm round aluminum encasements and contain 1945 cents. I have not seen any with a mint mark.
I have created two lists below. One is alpha by state. The other is alpha by reverse slogan.
The list originally comes from the ECI site and all credit goes to Derek McDonough who compiled it with help from Vic Noland, Carl Bangora, Jim Lawniczak and Bob Perdue (no relation). I have prepared it in alpha form by state and a second list by slogan to allow easier searching for pieces. I recently (8/189/17 compared lists and locations with Joel Resnick. Due to this exchange I add new pieces and updated location if Joel and I agreed. All pieces listed are know and either Joel or I have an example. The "Carl & Velma Bomber's Tavern" come in three flavors depending on font, capitalization and order of slogan. One has "Bomber Tavern" above Lincoln's head and the other has &quot Carl & Velma's&quot at the top. I will try to provide scans of these three types.
The original list from ECI has 72 different reverses known. I added in 2015 four Victory encased that are not on that list. They are "EVANS SERVICE / PHONE69501 / 9TH & BROAD, BETHLEHEM, PA.", "PRINCETON KNITTING MILLS, INC" (Watertown, Connecticut), "ROMAN'S MOTOR SERVICE / 308 CHESS ST. / MONONGAHELA, PA. PH. 222" and "FLATBUSH FEDERAL / SAVINGS & LOAN ASSN. / 2146 NOSTRAND AVE. / B'KLN 10, N.Y.". I added "Waterbury Buckle" in 2017. The number has grown to 88 different type 1 and only 1 type 2 for a total of 89.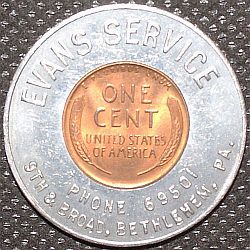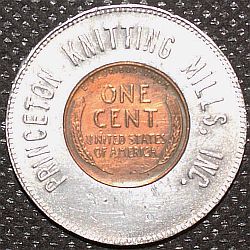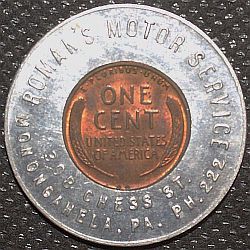 Note that the "Princeton Knitting Mills, Inc." piece has denticles around the edge of the encasement, while the other three do not. The obverse's are identical. I have classified the two types as; "A" type has denticles around the rim of the piece while the "B" type does not. If you examine the four pictures above you will note that the "Princeton Knitting Mills, Inc." has the denticles while the other three do not.
Alpha Victory List By State

Reverse Slogan
City
State
St. Louis Southwestern / Railway Lines / COTTON BELT ROUTE
Pine Bluff
Arkansas
CHARLIE'S FOR LIQUORS / 200 E. WHITTIER BLVD. / TEL. 535-86
La Habra
California
500 CLUB / In San Francisco / 500 Kearny St.
San Francisco
California
FIELDING HOTEL / 386 Geary St. / San Francisco
San Francisco
California
MONTI'S LIQUORS / 2022 Sutter 220 3rd St. - 257 Kearny
San Francisco
California
PUCCINILLI'S PUB / San Francisco / Back of theRuss Bldg. / 40 Belden St.
San Francisco
California
"EATON METAL PRODUCTS CORP. / Denver, CO / Steel Tanks"
Denver
Colorado
LAUREL OIL CO. INC. / 3250 Main St. Hartford / Esso / Distributor
Hartford
Connecticut
H.F. SUTTER, Mdse. Broker / LA-0035
Meriden
Connecticut
MILLER VICTORY LOAN / Nov - Dec 1945 / Meriden, Conn.
Meriden
Connecticut
SEE SAVIT - YOU'LL HAVE IT / Jewelers / 35 Asylum St.
New Haven
Connecticut
SCOVILL VICTORY LOAN / Nov. - Dec. 1945 / Waterbury, Conn.
Waterbury
Connecticut
WARERBURY BUCKLE CO. / Waterbury, Conn. / Since 1853
Waterbury
Connecticut
PRINCETON KNITTING MILLS, INC.
Watertown
Connecticut
JACK LIPPMAN / West Hartford / Advertising Novelities
West Hartford
Connecticut
FARMERS BANK of the / State of Delaware / Dover, Georgetown / Wilmington
Dover, Georgetown, Wilmington
Delaware
VILLA LUMBER & SUPPLY CO. / Phone 27-091 / Florence Villa, Fla.
Florence Villa
Florida
FOLEY - LUMBER INDSTRYS / WHOLESALE - RETAIL / RAIL - TRUCK - CARGO
Jacksonville
Florida
ATKINS SUNDRY STORE / Real Home Cooking / Miami, Fla.
Miami
Florida
KENNEDY & ELY INSURANCE / Congress Bldg. / Miami, Fla.
Miami
Florida
HUTCH-TRACTOR EQUIP. CO. / OLIVER WHEEL CRAWLER TRACTOR / Phone 6627
Orlando
Florida
KENNON BEARING SERVICE / Orlando / 319 W. Central - Phone 4614
Orlando
Florida
KNOX STORES CO. / Paint-Hardware-Gas Stoves / 157-163 Central Ave., St. Pete., Fla.
St. Petersburg
Florida
ORANGE STATE MOTOR CO. / Paul D. Cochran, Pres. / Tampa - Bradenton / St. Petersburg
Tampa, Bradenton, St. Petersburg
Florida
CHAS. R. DORSEY "KING" / Insurance - Mortgage Loans / West Palm Beach / Fla.
West Palm Beach
Florida
BAKER'S / Winter Park, Fla. / "We Outfit`em / From Six To Sixty
Winter Park
Florida
TORCH COAL CO. / Coal-Wood-Coke / Walnut at Sixth St. / Phone 5700 / Macon, GA.
Macon
Georgia
MORRIS MOTOR CO. / Studebaker / Sales - Service /Morris 616
Morris
Illinois
Wm. Y. GILMORE & SONS
Oak Park
Illinois
Return to Top of Page
GORDON AUTO LOAN COMPANY / 701 Washington Street / Gary, Indiana
Gary
Indiana
Blum's Flowers /3433 W. 10th St / BE. 3035
Indianapolis
Indiana
CAPITOL OIL COMPANY / Petroleum Products
Indianapolis
Indiana
JACK C. CARR REALTOR / 139 E. Market
Indianapolis
Indiana
GLOBAL LOANS CO. / Loans - Financing
Centerville
Iowa
SARGENT & CO. FEEDS
Des Moines
Iowa
WESLEY STINNETT'S TAVERN / North Beach, Md. / And / Fishing Fleet / Phone 13
North Beach
Maryland
PURITAN CLO. CO. / Good Clothes / For Good Boys
Cape Cod
Massachusetts
VICTORIA TIRE CO. / Springfield, Mass. / Quality Tire Recapping.
Springfield
Massachusetts
F.B. MELIN CO. / Fine Furniture Since 1904 / 6668 Van Dyke / 23301 Van Dyke
Detroit
Michigan
DOBIE & McELROY / Your Jewelers / 211 S. Main St. / Royal Oak - Mich.
Royal Oak
Michigan
BARRITT'S / Store Equipment / Ne. 7748 St. Louis
St. Louis
Missouri
Dancing Every Thursday Night / ARLINGTON PAVILION / Floyd Paul & Co.
Arlington
Nebraska
CARL & VELMA BOMBER CAFÉ / HI-WAY 75
Bellevue
Nebraska
LADENBURG OIL CO. / EL RECO PRODUCTS
Norfolk
Nebraska
EATON METAL PRODUCTS CORP. / Omaha, Nebr. / Steel Tanks
Omaha
Nebraska
J. L. CORBALEY And SON / 6013 Military / Scientific Shoe Fitting
Omaha
Nebraska
JONES BARREL CO. / 1409 No. 20TH / Ja. 2231
Omaha
Nebraska
PHYSICIANS CASUALITY ASS'N. / Physicians Health Ass'n. / Omaha.
Omaha
Nebraska
Precision Bearing Service / 2851 Farnam - AT. 4050 / SEB CIRCO - Mgr. / Omaha, Ne
Omaha
Nebraska
STANDARD BLUE PRINT CO. / PHOTOSTATS / 1411 Harvey St., Omaha
Omaha
Nebraska
STATE FURNITURE CO. / 14TH & DODGE / OMAHA, NE.
Omaha
Nebraska
THE CORN STATES SERUM CO. / Omaha, Nebr.
Omaha
Nebraska
USE DRISCOLL LEATHER
Omaha
Nebraska
GEORGE A. REED /Farm Equip. CO. / Phone 3311 Valley, Ne.
Valley
Nebraska
Return to Top of Page
BARNEY'S / Bar And Package Store / 823 Broadway / Long Branch, N. J.
Long Branch
New Jersey
FLATBUSH FEDERAL / Savings & Loan Assn. / 2146 Nostrand Ave. / B'klyn 10 N.Y.
Brooklyn
New York
Buyers Who Have Sense / Buy / H. BATES CO., INC.
New York
New York
JANE E. CONDIT ASSOCIATES / Premiums / 220 Fifth Ave. / New York 1, N. Y.
New York
New York
VICTORY 5¢ - 10¢ / 9TH Ave. & 55TH St. / Phone Circle 6-7346
New York
New York
RICHMOND HILL SAVINGS BANK / 1921 - 25 -1946
Queens
New York
GOLD BOND OIL SAVES MOTORS
Syracuse
New York
ART'S MEN'S SHOP / Men's and Boy's Wear / Bera
Bera
Ohio
JEAN'S FUNNY HOUSE / Novelties, Jokes, Magic / 1777 E. 9th St., Cleveland, O.
Cleveland
Ohio
JACK AND JILL SHOPPE/ KENT - RAVENNA
Kent - Revenna
Ohio
KEIDAN'S JEWELERS / You Don't Need Cash / At Keidan's
Toledo
Ohio
STERLING STUDIO / 335 Bdw.- MA. 7066 - Toledo / Jacquette & Sons / Custom Built Furniture
Toledo
Ohio
BRENNER BROS. / 25TH Anniversary / Wooster, Ohio
Wooster
Ohio
KIDDIE SHOP / 1902 Market, Youngstown, O. / Clothing - Gifts - Toys
Youngstown
Ohio
EVANS SERVICE / Phone 69501 / 9TH & Broad, Bethleham, PA.
Bethlehem
Pennsylvania
SPIEGEL Distributing Co. / Ale BALLENTINE Beer
Bethlehem
Pennsylvania
EAGLE HOTEL / 430 Main Street / Hellertown, Pa. / Tommy & Catherine Ortwein
Hellertown
Pennsylvania
ROMAN'S MOTOR SERVICE / Monongahela, PA. Ph.222 / 308 Chess St.
Monongahela
Pennsylvania
S. Paul Seeders / BEVERAGE DISTRIBUTOR
Pottstown
Pennsylvania
MCALISTER'S LITTLE SUMMIT INN / Rt. 40 Ph. 3880 / Scenery Hill, Pa.
Scenery Hill
Pennsylvania
SLATINGTON BEVERAGE CO. / Phone 50
Slatington
Pennsylvania
DAVID P. KING / FINE MONUMENTS
York
Pennsylvania
JULIUS / Where Friends Of Music Meet
York
Pennsylvania
YORK PAINT & HARDWARE CO.
York
Pennsylvania
VACUUM CLEANER Supply House / 718 Cherry St. / Chattanooga
Chattanooga
Tennessee
FILTER QUEEN SALES CO. / 319 W. Church / Knoxville
Knoxville
Tennessee
ROSE / 1321 N. Broadway
Knoxville
Tennessee
Return to Top of Page
R. A. HORNICKEL LIQUORS / R-1411 / 521 N. Akard - Dallas
Dallas
Texas
STELLMACHER & SON / Ph. C-6881 / 2715 Elm - Dallas
Dallas
Texas
DAVID AND FLOYD / JANITOR & MAINTENANCE SUPPLIES /SAN ANTONIO,TEXAS / PHONE F 9101
San Antonio
Texas
GLENN MINNICH'S / Good Clothes / For Men And Boys
Roanoke
Virginia
ISERMANN BROTHERS / Clothiers / 614-616 Fifth-Sixth St. / Kenosha, Wis.
Kenosha
Wisconsin
ADEL BRAU / SCHOEN'S
Wausau
Wisconsin
GORDON'S CLOTHES SHOP / West Allis, Wis.
West Allis
Wisconsin
WIESMAN IMPLEMENT CO. / Your Headquarters In Weyauwega
Weyauwega
Wisconsin
Anything In The INSURANCE Line / See STATALINE / Tel. Plainville 116
Unknown
Unknown
BARNEY'S HATS / 63 Richmond St. / Uniform Caps
Unknown
Unknown
FRANK GABRIEL / BEER DIST/ PHONE 29284
Unknown
Unknown
MERCHANTS INV. CO. / Loans to $1000 / First Nat'l Bank Building
Unknown
Unknown
Only Know Type 2 Obverse
There Is No Substitute For Veterinary Service
Unknown
Unknown
Return to Top of Page
As a break from the tables here are some of the reverse sides of the "Victory Encased".
Alpha Victory List By Slogan

Reverse Slogan
City
State
500 CLUB / In San Francisco / 500 Kearny St.
San Francisco
California
ADEL BRAU / SCHOEN'S
Wausau
Wisconsin
Anything In The INSURANCE Line / See STATALINE / Tel. Plainville 116
Unknown
Unknown
ART'S MEN'S SHOP / Men's and Boy's Wear / Bera
Bera
Ohio
ATKINS SUNDRY STORE / Real Home Cooking / Miami, Fla.
Miami
Florida
BAKER'S / Winter Park, Fla. / "We Outfit`em / From Six To Sixty
Winter Park
Florida
BARNEY'S / Bar And Package Store / 823 Broadway / Long Branch, N. J.
Long Branch
New Jersey
BARNEY'S HATS / 63 Richmond St. / Uniform Caps
Unknown
Unknown
BARRITT'S / Store Equipment / Ne. 7748 St. Louis
St. Louis
Missouri
BEE & CLIFF HARPER / Insurance / Phone 22131 / Columbia, S.C.
Columbia
South Carolina
Blum's Flowers /3433 W. 10th St / BE. 3035
Indianapolis
Indiana
Bomber Tavern / Carl & Velma / Hi-Way 75
Bellevue
Nebraska
BRENNER BROS. / 25TH Anniversary / Wooster, Ohio
Wooster
Ohio
Buyers Who Have Sense / Buy / H. BATES CO., INC.
New York
New York
CAPITOL OIL COMPANY / Petroleum Products
Indianapolis
Indiana
CARL & VELMA BOMBER CAFÉ / Hi-Way 75
Bellevue
Nebraska
CHARLIE'S FOR LIQUORS / 200 E. WHITTIER BLVD. / TEL. 535-86
La Habra
California
CHAS. R. DORSEY "KING" / Insurance - Mortgage Loans / West Palm Beach / Fla.
West Palm Beach
Florida
Dancing Every Thursday Night / ARLINGTON PAVILION / Floyd Paul & Co.
Arlington
Nebraska
DAVID AND FLOYD / JANITOR & MAINTENANCE SUPPLIES /SAN ANTONIO,TEXAS / PHONE F 9101
San Antonio
Texas
DAVID P. KING / FINE MONUMENTS
York
Pennsylvania
DOBIE & McELROY / Your Jewelers / 211 S. Main St. / Royal Oak - Mich.
Royal Oak
Michigan
EAGLE HOTEL / 430 Main Street / Hellertown, Pa. / Tommy & Catherine Ortwein
Hellertown
Pennsylvania
EATON METAL PRODUCTS CORP. / Omaha, Nebr. / Steel Tanks
Denver
Colorado
EATON METAL PRODUCTS CORP. / Denver / Steel Tanks & Oil Equipment
Omaha
Nebraska
EVANS SERVICE / Phone 69501 / 9TH & Broad, Bethleham, PA.
Bethlehem
Pennsylvania
F.B. MELIN CO. / Fine Furniture Since 1904 / 6668 Van Dyke / 23301 Van Dyke
Detroit
Michigan
Return to Top of Page
FARMERS BANK of the / State of Delaware / Dover, Georgetown / Wilmington
Dover, Georgetown, Wilmington
Delaware
FIELDING HOTEL / 386 Geary St. / San Francisco
San Francisco
California
FILTER QUEEN SALES CO. / 319 W. Church / Knoxville
Knoxville
Tennessee
FLATBUSH FEDERAL / Savings & Loan Assn. / 2146 Nostrand Ave. / B'klyn 10N.Y.
Brooklyn
New York
FOLEY - LUMBER INDSTRYS / WHOLESALE - RETAIL / RAIL - TRUCK - CARGO
Jacksonville
Florida
FORT LEWIS TOURIST COURT / SALEM, VA.
Salem
Virginia
FRANK GABRIEL / BEER DIST/ PHONE 29284
Unknown
Unknown
GEORGE A. REED /Farm Equip. CO. / Phone 3311 Valley, Ne.
Valley
Nebraska
GLENN MINNICH'S / Good Clothes / For Men And Boys
Roanoke
Virginia
GLOBAL LOANS CO. / Loans - Financing
Centerville - Des Moines
Iowa
GOLD BOND OIL SAVES MOTORS
Syracuse
New York
GORDON AUTO LOAN COMPANY / 701 Washington Street / Gary, Indiana
Gary
Indiana
GORDON'S CLOTHES SHOP / West Allis, Wis.
West Allis
Wisconsin
H.F. SUTTER, Mdse. Broker / LA-0035
Meriden
Connecticut
HUTCH-TRACTOR EQUIP. CO. / OLIVER WHEEL CRAWLER TRACTOR / Phone 6627
Orlando
Florida
ISERMANN BROTHERS / Clothiers / 614-616 Fifth-Sixth St. / Kenosha, Wis.
Kenosha
Wisconsin
J. L. CORBALEY And SON / 6013 Military / Scientific Shoe Fitting
Omaha
Nebraska
JACK AND JILL SHOPPE/ KENT - RAVENNA
Kent - Revenna
Ohio
JACK C. CARR REALTOR / 139 E. Market
Indianapolis
Indiana
JACK LIPPMAN / West Hartford / Advertising Novelities
West Hartford
Connecticut
JANE E. CONDIT ASSOCIATES / Premiums / 220 Fifth Ave. / New York 1, N. Y.
New York
New York
JEAN'S FUNNY HOUSE / Novelties, Jokes, Magic / 1777 E. 9th St., Cleveland, O.
Cleveland
Ohio
JONES BARREL CO. / 1409 No. 20TH / Ja. 2231
Omaha
Nebraska
JULIUS / Where Friends Of Music Meet
York
Pennsylvania
KEIDAN'S JEWELERS / You Don't Need Cash / At Keidan's
Toledo
Ohio
KENNEDY 'S / Good Clothes / For Good Boys
Unknown
Unknown
KENNEDY & ELY INSURANCE / Congress Bldg. / Miami, Fla.
Miami
Florida
KENNON BEARING SERVICE / Orlando / 319 W. Central - Phone 4614
Orlando
Florida
KIDDIE SHOP / 1902 Market, Youngstown, O. / Clothing - Gifts - Toys
Youngstown
Ohio
KNOX STORES CO. / Paint-Hardware-Gas Stoves / 157-163 Central Ave., St. Pete., Fla.
St. Petersburg
Florida
Return to Top of Page
LADENBURG OIL CO. / EL RECO PRODUCTS
Norfolk
Nebraska
LAUREL OIL CO. INC. / 3250 Main St. Hartford / Esso / Distributor
Hartford
Connecticut
MCALISTER'S LITTLE SUMMIT INN / Rt. 40 Ph. 3880 / Scenery Hill, Pa.
Scenery Hill
Pennsylvania
MERCHANTS INV. CO. / Loans to $1000 / First Nat'l Bank Building
Unknown
Unknown
MILLER VICTORY LOAN / Nov - Dec 1945 / Meriden, Conn.
Meriden
Connecticut
MONTI'S LIQUORS / 2022 Sutter 220 3rd St. - 257 Kearny
San Francisco
California
MORRIS MOTOR CO. / Studebaker / Sales - Service /Morris 616
Morris
Illinois
ORANGE STATE MOTOR CO. / Paul D. Cochran, Pres. / Tampa - Bradenton / St. Petersburg
Tampa, Bradenton, St. Petersburg
Florida
PHYSICIANS CASUALITY ASS'N. / Physicians Health Ass'n. / Omaha.
Omaha
Nebraska
Precision Bearing Service / 2851 Farnam - AT. 4050 / SEB CIRCO - Mgr. / Omaha, Ne
Omaha
Nebraska
PRINCETON KNITTING MILLS, INC.
Watertown
Connecticut
PUCCINILLI'S PUB / San Francisco / Back of theRuss Bldg. / 40 Belden St.
San Francisco
California
PURITAN CLO. CO. / Good Clothes / For Good Boys
Cape Cod
Massachusetts
R. A. HORNICKEL LIQUORS / R-1411 / 521 N. Akard - Dallas
Dallas
Texas
RICHMOND HILL SAVINGS BANK / 1921 - 25 -1946
Queens
New York
ROMAN'S MOTOR SERVICE / Monongahela, PA. Ph.222 / 308 Chess St.
Monongahela
Pennsylvania
ROSE / 1321 N. Broadway
Knoxville
Tennessee
S. Paul Seeders / BEVERAGE DISTRIBUTOR
Pottstown
Pennsylvania
SARGENT & CO. FEEDS
Des Moines
Iowa
SCOVILL VICTORY LOAN / Nov. - Dec. 1945 / Waterbury, Conn.
Waterbury
Connecticut
SEE SAVIT - YOU'LL HAVE IT / Jewelers / 35 Asylum St.
New Haven
Connecticut
SLATINGTON BEVERAGE CO. / Phone 50
Slatington
Pennsylvania
SPIEGEL Distributing Co. / Ale BALLENTINE Beer
Bethlehem
Pennsylvania
St. Louis Southwestern / Railway Lines / COTTON BELT ROUTE
Pine Bluff
Arkansas
STANDARD BLUE PRINT CO. / PHOTOSTATS / 1411 Harvey St., Omaha
Omaha
Nebraska
STATE FURNITURE CO. / 14TH & DODGE / OMAHA, NE.
Omaha
Nebraska
STELLMACHER & SON / Ph. C-6881 / 2715 Elm - Dallas
Dallas
Texas
STERLING STUDIO / 335 Bdw.- MA. 7066 - Toledo / Jacquette & Sons / Custom Built Furniture
Toledo
Ohio
Return to Top of Page
THE CORN STATES SERUM CO. / Omaha, Nebr.
Omaha
Nebraska
There Is No Substitute For Veterinary Service
Unknown
Unknown
TORCH COAL CO. / Coal-Wood-Coke / Walnut at Sixth St. / Phone 5700 / Macon, GA.
Macon
Georgia
USE DRISCOLL LEATHER
Omaha
Nebraska
VACUUM CLEANER Supply House / 718 Cherry St. / Chattanooga
Chattanooga
Tennessee
VICTORIA TIRE CO. / Springfield, Mass. / Quality Tire Recapping.
Springfield
Massachusetts
VICTORY 5¢ - 10¢ / 9TH Ave. & 55TH St. / Phone Circle 6-7346
New York
New York
VILLA LUMBER & SUPPLY CO. / Phone 27-091 / Florence Villa, Fla.
Florence Villa
Florida
WARERBURY BUCKLE CO. / Waterbury, Conn. / Since 1853
Waterbury
Connecticut
WESLEY STINNETT'S TAVERN / North Beach, Md. / And / Fishing Fleet / Phone 13
North Beach
Maryland
WIESMAN IMPLEMENT CO. / Your Headquarters In Weyauwega
Weyauwega
Wisconsin
Wm. Y. GILMORE & SONS
Oak Park
Illinois
YORK PAINT & HARDWARE CO.
York
Pennsylvania
Return to Top of Page
If you have a different list please feel free to send me a copy of the list and images of the reverse side. My list comes from the ECI website, Joel Reznick and from the pieces that I personally own. Bruce Perdue Email: Webmaster