The above sample box recently came up for auction on eBay. Shortly after it sold a different sample box for the same manufacturer came up for bid. Both sold for over $300 each. I have never seen these sample boxes before or heard of The Kewaunee Line. I am fascinated by these two sample kits!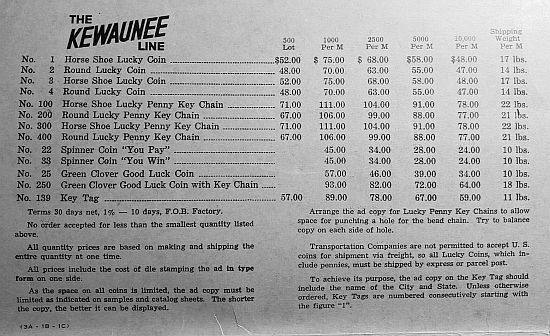 Salesman Pricing for The Kewaunee Line
I know nothing else about who manufactured these encased coins and tags. It has been suggested to me that they were made in Kewaunee, WI. I have been unable to find any additional information through search online.
Needless to say these are prized by collectors. I am open to more information! Have you got any?
I purchased the coin below just this week on eBay. In looking up the company on the internet I find that they currently make a variety of items, but none currently are encased coins.
In searching the internet I found Medalcraft Minting of Greenbay, Wi, which is about 30 miles west of Kewaunee. They make challenge coins and assorted coin related products. The company originally was in Kewaunee and in 1975 was moved to Green Bay and the name changed to Medalcraft. I believe that this is the company that had the "Kewaunee Line" of encased coins.