Encased Coins Dot Info
---
Encased Coin Varieties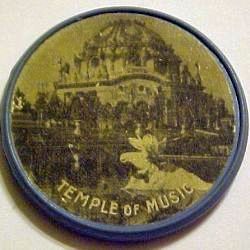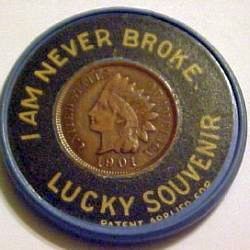 Vulcanite encased Pan Am Temple of Music 1901 Pan Am Exposition, Buffalo, NY
As was indicated on the introduction page (Home) there are a wide variety of encased coins. The variety includes types of coins that are encased, type of encasements and the shape of encasements. The first known encased coins included round encasements of aluminum, horseshoe shaped aluminum, chamber pot aluminum, frying pan and key fob shaped. Encasements originally were aluminum, but have been done in brass, steel, plastic and wood.
A Variety of Encased Shapes
Horseshoe Shaped
32 MM Round
Bell Shaped
Horse Shoe Shape with Fob
Plastic Horse Shoe
Chamber Pot
Teddy Bear
Plastic Key Chain
Clear Plastic Key Chain
Arrow Head
Celluloid Paper clip
Square
There are many more shapes of encased coins that are not shown above.
What's New
Articles are listed newest to oldest complete list at: Articles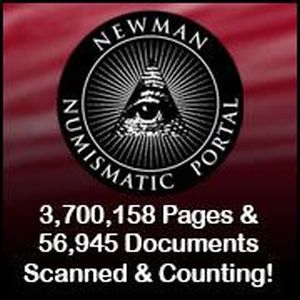 The Newman Numismatic Portal (NNP) has the largest online searchable collection of numismatic literature, periodicals and auction catalogs.