Encased Coins Dot Info
---
Osborne Coinage Company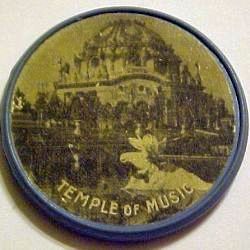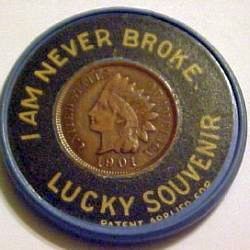 Vulcanite encased Pan Am Temple of Music 1901 Pan Am Exposition, Buffalo, NY
This page is the work of Bryan Ryker and published with his permission
Encased Coin Production Records Of The Osborne Coinage Company
gathered by Bryan Ryker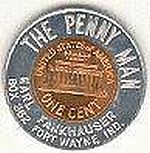 Hi! I am a researcher and collector of encased coins made for Earl Fankhauser, "The Penny Man," of Fort Wayne, Indiana. That research led me to the Osborne Coinage Company in Cincinnati, Ohio. They made many of Fankhauser's pieces back in the 1950's and early 1960's.
The folks there were gracious enough to grant me access to their old production records which fortunately were not destroyed. For the last several years I have been working on capturing the history of the encased coins they made - not just the Fankhauser pieces, but all of them!
I hope you enjoy seeing the actual sheets of paper they used to take orders for encased coins showing when the pieces were made, who they were made for, and how many pieces were made! This is information never available before to collectors. Some records even document the quantity of special coins used, when customers sent in their own coins to encase. You will also find some records where the piece was ordered over and over again and shipped to many different locations, like the Biltwell Shoes piece for Sears.
To help with navigation I have limited the number of production records on each page to 50. The pages load faster that way. At the bottom of each page are three links. One will take you to the next page in the sequence, one will take you back to the prior page, and one will bring you back here, from where you can jump to any group of records you wish.
I also put the production order number in text above each record. This makes it possible for you to use CTL-F (find) to jump to a particular record on a page if you know the number.
Or, if you really want to cut to the chase and know the record number you want to see, you can just type in the web address of that record. For example, to see record # 676, type: http://encased.110mb.com/records/676.gif
The records were actually scanned in high detail. I'm not very happy with the detail that displays on the web on a standard monitor, though the results are pretty good on a wide-screen monitor. If you are having trouble reading something, you can save the image to your computer and open it from there. (click on the record, right-click, select "save picture as", select a folder on your computer to save it into, click on "save"). Then you can zoom in and see the image in great detail.
By the way, I don't mind if you link your web page to these images, or even copy them into your web page. My intent was to make this information freely available to the encased collector community, to expand the knowledge about encased coins. I would appreciate it though if you would acknowledge where they came from.
If you are interested in seeing more information about Earl Fankhauser, "The Penny Man", you may want to visit my other website: Earl Fankhauser. ( A copy of that page is hosted here on Encasedcoins.info)
If you are looking for the ultimate source on encased coins, you should visit Encased Collectors International. ECI is "an organization of like minded collectors who are dedicated solely to the promotion, and dissemination of information and ideas about encased coinage." ECI exists as a medium to bring collectors together in a friendly, professional and relaxed atmosphere where they have an opportunity to exchange information, display photos and engage in lively conversation. You may want to consider joining. It is free. Here is their link: Encased Collectors International.
I'd enjoy hearing from other collectors or curious web browsers. You can reach me at: encased.coins@juno.com
Here are the production records. Happy hunting!
---
The production records are displayed in numerical order. Below I show the first and last production order number on that page, along with the dates of those two orders. In most cases the order sheets were used sequentially. But occasionally they must have jumped to a new pad and then gone back to finish up the old pad. Still, the dates below give you a good idea where to look if you are looking for a piece from a certain time period.
You will notice there are gaps in the numbers. The Osborne Coinage Company makes much more than encased coins. They make all sorts of tokens. The missing numbers were for orders for their other products.
The Osborne records were hosted on 110mb.com a "free" hosting company that no longer exists. I am attempting to recover the records and will repost them if that occurs.
---
This page is the work of Bryan Ryker and published with his permission. Changes have been made to recognize that the Osborne records links no longer exists. I do not know if Brian's email address works either.
---
What's New
Articles are listed newest to oldest complete list at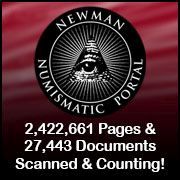 The Newman Numismatic Portal (NNP) has the largest online searchable collection of numismatic literature, periodicals and auction catalogs.