Encased Coins Dot Info
---
Pan American Exposition Music Temple Encased
Wishbone Encased from 1901 Pan Am Exposition, Buffalo, NY
1901 temple of Music Encased
The Pan American Exposition of 1901 was held in Buffalo, NY. The encasing of coins is thought to have originated at the exposition. There are a number of well known encased from the exposition including 38 MM round pieces, 32MM round with offset coin, the well known and highly sought after frying pan and there are several different pieces which feature an Indian Head cent encased with the heads side showing and the reverse covered by the encasement which is measures 38mm and is made of cardboard and blue vulcanite and has a picture of one of the various temples on the back.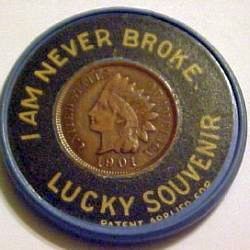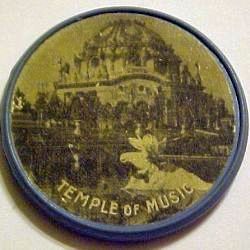 Above Temple of Music Encased 1901 Indian Head Cent (1901 Pan American Exposition)
Note that on the steps of the Temple of Music U.S. President William McKinley was assassinated by an anarchist, Leon Czolgosz. President McKinley was leaving when shot on September 6, 1901. He died 8 days later. This piece is all the more interesting because of this event. Teddy Roosevelt succeeded McKinley as President.

What's New
Articles are listed newest to oldest complete list at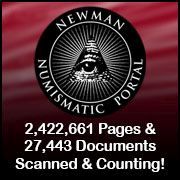 The Newman Numismatic Portal (NNP) has the largest online searchable collection of numismatic literature, periodicals and auction catalogs.