Encased Coins Dot Info
---
Egg Shaped Encased
Egg Shaped Pin with encased 1973 D Cent
Egg Shaped Encased Cent
I was and still am intrigued about this piece. "ONE CENT PER HEN CLUB" when entered into "google search" brings up a lot of articles from turn of the century(1900 - 1920) poultry journals about various feeds and remedies that cost less than 'one cent per hen'. I am not convinced that this is the answer, but clearly this encased cent had something to do with chickens and eggs! Also since the encased coin is a 1973 D cent it is more modern then the mention in the Poultry Journal.
What's New
Articles are listed newest to oldest complete list at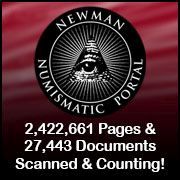 The Newman Numismatic Portal (NNP) has the largest online searchable collection of numismatic literature, periodicals and auction catalogs.