Encased Coins Dot Info
---
Encased Chamber Pot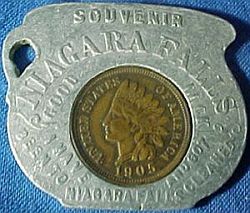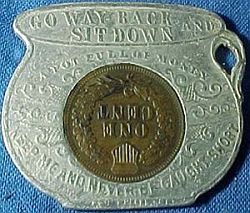 1905 Encased Chamber Pot Niagara Falls
This encased chamber pot article was submitted by Bill Groom.
The legend says a lot .… Souvenir of Niagara Falls / Good Luck / I have been to Niagara Falls and got cleaned. The reverse reads … Go way back and sit down / A pot full of money / Keep me and never be caught short. Likely, the original buyers of these souvenirs understood and appreciated the humor it conveyed. Times have changed in the past hundred years though, and messages from yesteryear now get misunderstood.
An Ebay seller described this item as follows: "Lucky Penny in its original figural case … it's from Niagara Falls and is a coffee cup design ..." I had to chuckle at the obvious multi-generation gap at play here. A child of the mid-twentieth century, I had never used one of these containers. As an antique collector of sorts, I immediately recognized his "coffee cup" as a chamber pot! I couldn't help but wonder how many others, upon seeing this description, might have gotten flushed with laughter?
The days of outhouses and chamber pots are now thankfully behind us. Today's history books would not waste paper on such trivial matters of life as once it was. It's all now well beyond our rear-view mirrors. A coffee cup indeed … looks more like a casserole dish to me!
In my research of the phrase, "Go way back and sit down", I found that it referred to popular song that had been sung going back into the 1880's and was published by Elmer Brown and Al Johns in 1901.
The chorus of that song is:
Go way back and sit down.
Coons in your class are easy found,
You seldom have money, you never treat,
Get in your place and take a back seat,
Go way back and sit down.
Keeping in mind that I was not around when that song was written, it appears to refer to someone who was a skin flint and never treated! The phrase "A pot full of money / Keep me and never be caught short" implies that you would not have to be a skin flint as you'd have money.
The song can be heard here on YouTube https://www.youtube.com/watch?v=hAJfqldrZ3g featuring Dan Quinn The Jazz Singer 1927.
What's New
Articles are listed newest to oldest complete list at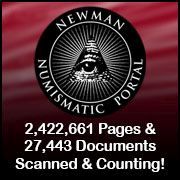 The Newman Numismatic Portal (NNP) has the largest online searchable collection of numismatic literature, periodicals and auction catalogs.