Encased Coins Dot Info
---
Central States Numismatic Society Encased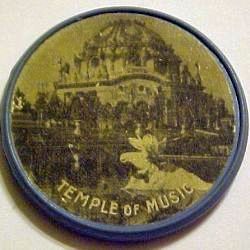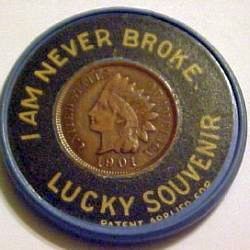 Vulcanite encased Pan Am Temple of Music 1901 Pan Am Exposition, Buffalo, NY
Designing the Encasement
The Central States Numismatic Society issued an encased cent to commemorate it's "Civil War Forum" at their 73rd Anniversary Convention. The design was a collaborative effort of Convention Chairman Kevin Foley, Education Director Ray Lockwood and myself, CSNS Vice President Bruce Perdue. Ray and Bruce are encased collectors. As the prime mover in this project I wanted a 2012 piece strictly for the convention and a special Commemorative piece for the "Civil War Forum". For the 2012 piece Kevin suggested the obverse have the CSNS Logo on it as well as the pertinent information on the convention.
Below is the working drawing of the piece created by Penny Press Mint. Kelly took our requirements and created the drawing and then with our approval he created the die for the obverse of the encasement using this drawing. For the reverse of the encasements we choose stock dies to control the cost. 500 2012 cents were encased with the 73rd Convention obverse.
For the "Civil War Forum" encasement we wanted to again add the appropriate information and some Civil War elements. Kelly and I discussed the requirements and he produced the drawing below which was approved for the final die. Again in order to control costs a stock die was used. In the case, "Now He Belongs to the Ages" with Abe Lincoln's signature below. For the cents to be encased in the "Civil War Forum" we choose the 2009 cent with the four (4) different reverses signifying Lincoln's life. 125 of each reverse were encased.
The final encased coins look like this!
What's New
Articles are listed newest to oldest complete list at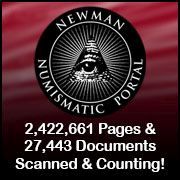 The Newman Numismatic Portal (NNP) has the largest online searchable collection of numismatic literature, periodicals and auction catalogs.